Forklift Refresher & Competency Assessments
Why Do Your Operators Need To Do The Refresher Training?
Over time forklift operators may become complacent, forget rules or learn bad habits. Conducting forklift refresher training can help an employer to overcome these problems and demonstrate that they are meeting their Duty of Care under the OH&S/WHS Act in making sure that workers are trained to perform their work safely.
Who is This For?
This course is designed for those who have already obtained a valid photo forklift licence. The course focuses on increasing workplace health and safety awareness and provides guidance about safe forklift operation.
What we Can Do For Your Operators.
The AJM Training Services understands that refresher training is not only an important aspect of any workplace safety program but is also a legal requirement for employers under the OH&S/WHS regulations requiring site specific and refresher forklift driver training to ensure safe work practices.
Our forklift driver training refresher course covers safe operation and assesses attitudes to safety in the workplace.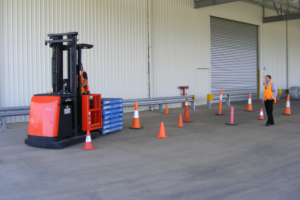 Has your Business complied with it's Legal Occupational Health & Safety or Work Health Safety requirements?
Has your Business complied with it's Due Diligence obligations?
We can help your business to comply with these requirements.